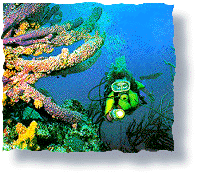 Welcome from the Jacksonville Scubanauts Dive Club!

Download most recent newsletter in Adobe PDF format. (If you cannot yet read Adobe's PDF format, get the reader here).

July Meeting

Our next meeting will be on Wednesday, July 12th. Our meetings are always on the second Wednesday of each month with socializing starting at 6:00 pm and the actual meeting beginng at 6:30 pm.

Please note that our meeting place has changed from past years. The meetings are now at the Mediterrania Restaurant at 3877 Baymeadows Rd. They do have have a private room reserved for us that should suit us well. Socializing begins at 6:00pm with the actual meeting starting at 6:30pm. Visitors are always welcome!

Our speaker for this meeting will be Diane Schleissing whose talk will be about the Sea Turtle Research and Rehab Hospital at Whitney Labs.

The vote for our new slate of officers for the Scubanauts was held at the May meeting. The new slate has been posted to our "About" page.

Dive reports were plentiful last meeting from last month's 2017 trip to CocoView Resort in Roatan, Honduras. For our 15 club members who made the trip, it went off beautifully and was a total success. There were an enormous number of underwater photos taken. So this year's annual Scubanauts Photo Contest should be quite competitive and interesting!

Please consider running a club trip; it is fun diving with your friends! Be thinking about what trip destinations you'd like to see in the coming year. At our last meeting, members had tentatively volunteered to organize trips to Palm Beach and the northern Florida Keys, but it is too early for anything specific regarding those destinations.

See the Activities Page for information on all Scubanauts activities! Don't let the best of club diving pass you by!

Our Photo Gallery has portfolios from members as well as photos from our contests and parties. We're still looking for more material for the Photo Gallery. Check out the submissions so far! Members, send in some for your own page.

There are still some Scubanauts logo shirts and caps left from our last order. So if you didn't get want you wanted, check with Scott to see what stock remains.

The coveted Golden Copralite award is being held by Bob Riddle. Please pass word of any future discretion to Bob so he can help others experience the pleasure of this award.

We have seen only a few recent Off-Shore Jax dive reports. Visibility has declined after the recent storms; being reported as 10' to 15' and "snotty" out to around 15 miles. Visiblities of 40 feet or more are being reported further offshore. Surface temps are around 80 degrees, but bottom temps are being characterized as "cold". No specific temps were found. Given that a thermocline with 69 degree bottom temps is being reported further south at West Palm Beach, we may be in a for a few weeks of less than ideal conditions.

For our members who like to spearfish, there is important news. The group "Our Florida Reefs" is pushing very hard to near totally prohibit all spearfishing while on scuba. (The sole exception is to hunt lionfish). This proposal is very near being passed into formal regulation. So any members who have a strong opinion on this need to get involved very quickly and let your state representatives know how you feel. Click here to see a .PDF of their draft proposed regulation.

We've all been following the OCEARCH Great White Shark satellite radio tagging program which has been operating in the waters offshore Jax periodically for some time now. The Scubanauts were recently given a private tour of the OCEARCH research vessel here in Jacksonville.

If you want to follow one of the specific tagged sharks which has been in the local news recently, here is the procedure. This example is for following "Katherine", the large female that has been sighted multiple times recently by divers off the Florida Keys; including being video'd by a dive team off the wreck of the Duane offshore Key Largo. At this writing, her satellite tracker's last "ping" was near the edge of the Continental Shelf east of the border between North and South Carolina.

To follow Katherine's - or any other tracked shark's - travels:
Open your web browser and point to the OCEARCH Global Tracker website
Enter the shark's name ("Katherine") into the field titled "Sharks" in the filter box to the left
Click the blue "Update" button
View where Katherine is in realtime

Newcomers, come check our membership pages to find out more about joining the Scubanauts!
If you have any ideas for speakers, please let your officers know. We always need new ideas!
Missed the last meeting? See the minutes of last month's meeting.